Degrees of health
New partnership with North Texas Health Science Center helps business students broaden their scopes.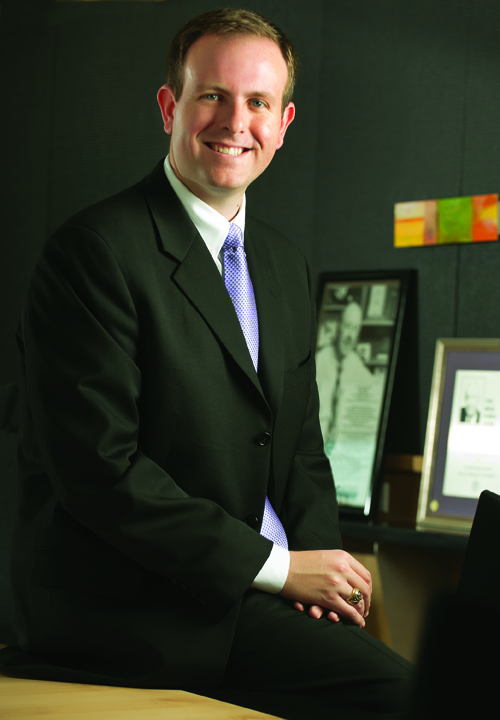 Degrees of health
New partnership with North Texas Health Science Center helps business students broaden their scopes.
This summer MBA student Chris Surley listened to local healthcare leaders detail industry trends and learned how communities can better prepare for natural disasters.
He was able to take two classes, "Seminar in Healthcare Management" and "Public Health and Disasters," at the School of Public Health at the University of North Texas Health Science Center Fort Worth (UNTHSC), thanks to a new agreement allowing students in both graduate programs to take courses to better prepare for leadership and management careers in health care.
Students register with their own institution and then take the classes at the partnering campus. Surley is the first TCU student to take advantage of the agreement with the center, which comprises the Texas College of Osteopathic Medicine, the Graduate School of Biomedical Sciences, the School of Public Health, the School of Health Professions and UNT Health, its multi-specialty group practice.
"The seminar gave me exposure to current issues in healthcare, from the growing percentage of the U.S. Gross Domestic Product (GDP) spent on healthcare, healthcare reform legislation and trends toward accountable care," Surley says.
"The public health and disasters course gave me exposure to the increasing need for emergency preparedness and how we are meeting those challenges," he adds. "We became certified in the first course of FEMA's Incident Command System training modules and learned about previous disasters."
For TCU graduate business students interested in health care careers, the opportunity brings an additional, unique perspective to their MBA degree.
"Health care is consistently rated as one of the top industries for job opportunities over the next decade, so this new emphasis gives our MBA students an additional edge in a popular field," says O. Homer Erekson, John V. Roach Dean of the Neeley School of Business. In addition to the new health care emphasis, the Neeley School provides MBA emphasis in energy, real estate, consulting and entrepreneurship.
MBA students may take UNTHSC classes in insurance and managed care, health care law and health economics. UNTHSC students may take TCU MBA classes in financial reporting, accounting for managerial planning, marketing management, engaging and empowering people, and leading and guiding organizations.
"An important dimension of graduate education involves learning from other students and developing deep professional networks," Erekson adds. "Students in this distinctive program will develop those long-lasting professional relationships and gain from their respective experiences in business and health care."
Richard Kurz, dean of the School of Public Health at the UNT Health Science Center, calls the agreement a win/win for both schools and their students.
"TCU's Neeley School is renowned for its business education," Kurz says. "This cross-town education enhances the learning experience for students in both schools and adds value to their degrees."
Prior to deciding to go to TCU, Surley was torn between pursuing an MBA specializing the supply chain management and a Masters in Health Administration, opting for the MBA because it is applicable across multiple industries.
"I have been fortunate enough to get the best of both worlds, as I can now study supply chain and healthcare administration," he says.