Piping up: Pipe Organ Encounter
Organ Encounter gets teens in tune with majestic instrument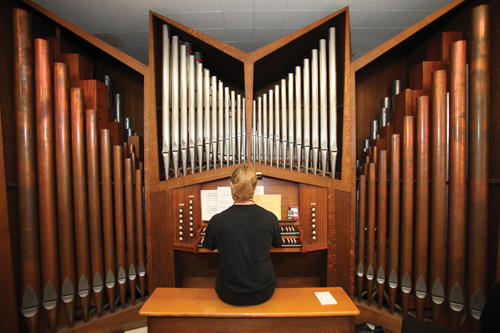 Piping up: Pipe Organ Encounter
Organ Encounter gets teens in tune with majestic instrument
Katherine Beaman had never played a pipe organ before, but she thought it might be fun to try.
So this summer she signed up for the Pipe Organ Encounter, a five-day camp sponsored by the College of Fine Arts and the American Guild of Organists. It is designed to introduce a new generation to what Mozart once called "the king of all instruments."
"With a piano, every instrument is pretty much alike," said Beaman, a high school senior from Friendswood. "But with an organ, each one is different. You go to one church and its organ is totally different from the organ at another church. Each one is unique. It's more like a person."
H. Joseph Butler, professor of music and TCU campus organist, directed the camp, which included individual tutoring sessions, field trips to area churches and an organ building shop, a silent movie performance, appearances by guest artists and a student recital in Ed Landreth Auditorium.
"They're having a lot of fun with it," Butler said of the 24 student participants. "There's a lot of camaraderie, an electricity in the air. They are all getting along well and practicing like crazy. It's exciting to see how much they're interested in getting to the organ and practicing their music."
Butler helped organize a similar Organ Encounter in 1996, his first year at TCU, but this one was larger and filled up quickly, forcing him to create a waiting list. He said the program had tremendous community support, involving organists from all over the area to serve as teachers, chaperones, drivers and other support roles.
The encounter is also part of a larger effort by the American Guild of Organists to draw young people to the instrument, which has been supplanted in some churches by a rise in alternative worship services that use rock bands and recorded music.
But Butler says he's seeing a new resurgence in traditional church music.
"Larger traditional churches in cities are wanting a professional, classical music program that features a pipe organ and choir, traditional hymns and the great music of the church," he said.
"The church has been responsible for some of the greatest music ever written, and we don't want that to die out or become a museum thing. We want to have a living tradition of great music. This next generation, hopefully some of these campers, will be the ones leading this charge in the future."
Delanie Sager, a 17-year-old student from Keller, said the camp converted her to full-fledged organ fanatic.
"Before, I liked to listen to it at church, that was about it," she said. "But knowing more about it makes me really want to play it."
Contact:
Email H. Joseph Butler at h.j.butler@tcu.edu.
Video: