A new front door: Mary Wright Admission Center
The completion of the Mary Wright Admission Center streamlines the Office of Admission and provides a more accessible, more visible entry point to the "TCU Experience."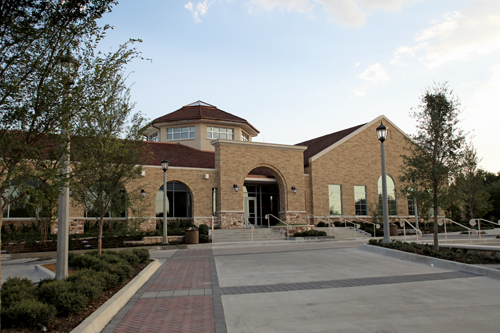 A new front door: Mary Wright Admission Center
The completion of the Mary Wright Admission Center streamlines the Office of Admission and provides a more accessible, more visible entry point to the "TCU Experience."
It is mid-morning in late August and the angle is just right: Sunlight penetrates the TCU-themed chandelier dangling silently in the rotunda of the Mary Wright Admission Center, and sections of the ceiling and west wall radiate a purple brilliance.
They call it the lantern.
Musky gourmet coffee percolates at a java station in the corner, while soft leather furniture relaxes comfortably in the center of the room. Craggy stone work covers the nearby reception desk as touch-screen kiosks wait for visitors at the base of the classic pillars that support the light-filled rotunda. A student at a Steinway plays Beethoven softly in the background as black and white images parading across the rotunda whisper the school's history.
Welcome to the university's new living room — the space where the TCU Experience formally greets future generations of prospective Horned Frogs.
"The living room is actually what we call it," says Wes Waggoner, associate dean of admission, who coordinated the center's concept with architects Cannon Design and Hahnfeld Hoffer Stanford. "It's not a lobby or a waiting room. It's an interactive space where guests to campus can learn about TCU past, present and future."
Demand for that information is high. When the $7.9 million, 14,500-square-foot new home to the Office of Admission opened in August, more than 200 group tours were anticipated for the coming year — and that's on top of the office's two daily campus walkabouts.
It is a drastic departure from the quarters the department previously kept in Sadler Hall, which was once painfully described as "a crowded doctor's office" by a higher education consultant.
The spacious new building features interchangeable color photos of academics, campus life, fine arts and athletics, punctuated by university factoids and brag points. There's even one displaying the current year's tuition figure to help make conversations about costs easier to broach.
The décor illustrates the life of modern-day Horned Frogs, showcasing students' academic work behind glass and scrolling campus headlines from the university's RSS (really simple syndication) feed on a stock ticker, all while giving a tip of the hat to the school's heritage.
"We wanted to appeal to the five senses and be authentic to TCU. Our goal was to have a welcoming, inviting space with a 'wow' factor," Waggoner says. "We want people to say that this is impressive, yet still feel comfortable. Sort of the way TCU and Fort Worth feel."
Rugged and refined, the mix of leather, stone and technological savvy is meant to reflect TCU's hometown and its hospitality. Classy. Metropolitan. Contemporary.
And TCU's renowned friendliness and personal touch are there, too, exemplified in a pair of LCD monitors that can display the names, hometowns and high schools of that day's guests. If prospective students send in a photo ahead of time, which the office suggests, their  smiling faces will appear with their names. Not only are prospects and their parents welcome, they're planned for.
***
To fully appreciate the Mary Wright Center, go back to the place that the Office of Admission had for decades — if you can find it.
Admission's old space, landlocked inside Sadler Hall and spread out over four office suites on three floors, elicited negative comments from prospective students and their parents almost daily.
"The campus is beautiful, but this place was hard to find," some would say. Others would joke, "We kind of got the tour before the tour."  Add a shortage of close parking to the challenge, and Admission knew that a lot was being asked of the very people the university was trying to welcome and impress.
"Hearing about it stung every time. It certainly wasn't the first impression we wanted to make," said Ray Brown, dean of admission. "But what was worse was the stories we'd hear of people who circled the parking lot, couldn't find a spot and decided to move on."
Admission did well with what it could control, using strategically placed signs near parking lots and buildings to funnel newcomers to Sadler Hall, where a hallway placard with visiting students' names on it greeted them.
"People took pictures next to the sign every day," said Liz Rainwater '00, director of admission marketing. "It was one of the best-loved elements of the visit."
Ever-increasing applications and campus visits suggested that TCU was gaining interest, despite the challenging access. In 2004, Admission reviewed a then-record 8,061 applications, but that number would swell to more than 11,000 by the time the fall 2007 deadline hit. (Last year, the office set another record of more than 14,000.)
Still, a 2008 audit of the campus visit by higher education consultant Jeff Kallay was especially biting: "The current facility is too small to meet demand and by no means reflects the value or excellence of TCU. Not at all what I expected for a top-tier national university — nor does it match the rest of campus."
By then, the Brown-Lupton University Union was newly opened, and Admission would set up a satellite office there, closer to the edge of campus with more available parking. "It was better, but it wasn't ideal," said Waggoner. Prospective students and parents still would have to huff it to Sadler to visit the Financial Aid and Scholarships office.
The satellite location was a temporary fix. Plans for a new facility for Admission took shape when philanthropists Mary and Robert J. Wright '50 made a private donation.
University planners targeted the corner of Bellaire and Stadium drives as an accessible entry point on the edge of campus, taking advantage of the large parking area adjacent to the University Recreation Center. After breaking ground, the center took a little more than seven months to finish, making it TCU's fastest-completed building.
The Wright Center is also the university's first structure to use geothermal wells for cooling and heating, meaning that its heating and air conditioning systems are self-sufficient. During construction, workers drilled more than 70 holes and lay piping 250 feet deep. Using the Earth's constant temperature, air can be heated and cooled naturally, making for an economical and highly efficient system. This and other environmentally focused construction garnered the facility Gold-level LEED certification as established by the U.S. Green Building Council.
Planners also took advantage of the location's graded terrain. For drivers on Bellaire and neighboring houses, the center appears a modest one-story structure, but the view from the recreation center, with the center's landscaping and brickwork and a bubbling water feature, is grand.
***
One-hundred and nine might be the most important number related to the center. That's how many parking spaces await future Horned Frogs. Admission's old designated lot, which was shared with residence halls, had about a third as many.
"It may sound strange to hear, but convenient parking is part of the strategy for the TCU Experience," Waggoner says.
TCU envisions guests arriving for appointments and spending a few minutes exploring the six touch-screen kiosks, which highlight TCU's athletics, academics and social life, as well as things to do around Fort Worth.
"They can scroll through a 360-degree dorm room tour, watch videos from the athletics department and ESPN's 'College GameDay' visit, or get matched with a major — all through a touchscreen interface," says Rainwater, who developed the interactive feature and selected the interchangeable wall images.
In another innovation, the department has devoted a staff position to serve as a kind of "admission concierge," who will oversee the visitor experience. In addition to communicating with prospects and scheduling visits, the office can recommend Fort Worth restaurants, hotels and can't-miss sites around town.
"They could call ahead a week before and get suggestions for things to do, or get directions from the highway," Waggoner says. "We want to encourage them to spend the night in Fort Worth and get a feel for the city as well as the campus. We embrace Fort Worth, and Fort Worth embraces us. We want to maximize that relationship. It's an important part of the TCU Experience."
While they wait for a tour, guests are encouraged to view unique memorabilia on display from the schools and colleges. Look closely. Yes, that is a replica 1938 Heisman Trophy, won by Davey O'Brien '39 of the national champion Horned Frogs. There are also meteorites, Shakespearean costumes and ancient tribal relics.
When the program begins, guests are ushered into the Raymond A. Brown Admission Classroom for a multimedia session. The room is acoustically enhanced, features surround sound and has a bare wall treated with high-tech paint to maximize clarity of videos and presentations. The room can seat up to 100 or be sub-divided for smaller groups.
The building consolidates admission into one space. International, transfer and freshmen prospects will all get assistance on the same floor. There's also seasonal space available for Financial Aid workers to meet with families.
Counselors can use the center's small interview rooms with video conferencing capability to communicate with students or high school guidance officers via Skype. Admission will use Skype for its staff meetings to bring in department personnel in other states for the first time.
Doors open off to a latticed patio where the campus tour will begin. Guided tours now begin with a five-minute walk down Stadium Drive, perfect for getting the introductory information out first. Then the tour takes off in earnest as the group passes through the union archway and eventually concludes at the recreation center, across the street from the Wright Center.
"It helps us, certainly," Dean Brown says, "but the best thing is that TCU now has a front door that matches the rest of the university."
On the Web:
Admission's website – www.admissions.tcu.edu
Gallery of photos of the Mary Wright Admission Center
TCU is hot and getting hotter – a Q&A with dean Ray Brown
New Mary Wright Admission Center gives TCU a new front door
Volunteers help TCU recruit students around the globe