Prepared for takeoff
March 21, 2013
Thank President Harry S. Truman in 1946 for giving TCU the chance at a national championship.
Not in football. In the sky.
Fresh off defeating the Axis in World War II and capitalizing on a surge of aviation-related nationalism, Truman signed Public Law 476, which incorporated the Civil Air Patrol as a nonprofit organization. It was an act of thanks to the group's thousands of volunteers who had answered America's call to national service by performing critical wartime missions in the days after Pearl Harbor, including more than 500,000 flying hours, sinking two enemy submarines and saving hundreds of crash victims. Not bad for a bunch of civilians.
When the war ended, the nation understood that these everyday aviators could continue to provide valuable services to local and national agencies, so Truman established the United States Air Force a year later. Soon after, the Civil Air Patrol became an official auxiliary of the military.
At TCU, patriotism was swelling, too. A local chapter of the American Legion had formed and veterans were arriving on campus — with them, the urge to fly.
In the spring of 1947, the university had an unofficial aviation "ground school" that taught basic cockpit controls in an old BT-13a training plane that wasn't even flight-worthy. It was more a restoration project that class instructor Troy Stinson had taken on. But he had to abandon the effort after too many neighborhood boys pilfered the plane's movable parts.
 The time had come to start something official.
In April, Stinson sent out inquiries to aviation companies about buying a plane at cost and then organized a student group — made up of Civil Air Patrol members and Army and Navy reservists — patterned after the National Intercollegiate Flying Club. He called it Flying Frogs.
Nineteen students signed up at the first meeting, appointed officers and formed a G.I. committee to seek government funding.
Two weeks later, a few of them rented a plane and competed for the first time at an air meet in Columbia, Mo., earning a second-place and a third-place finish in two events.
It was a start.
But the Flying Frogs were about to take off. Their next competition wouldn't come until seven months later at the Intercollegiate Air Meet in Denver. This time, 17 students and Stinson hopped a Douglas C-47 Skytrain military transport at Fort Worth Army Air Field. The TCU Skiff ran a photo of the group at the top of the front page of its Nov. 7, 1947, edition.
Five universities competed in contests called bomb dropping, speed dash, spot landing and airplane scavenger hunt.
The Flying Frogs swept them all, led by sophomore Mary Helen Rattikin '49 of the Civil Air Patrol, who was the flier of the meet, setting a national collegiate record in spot landing and taking third in speed dash.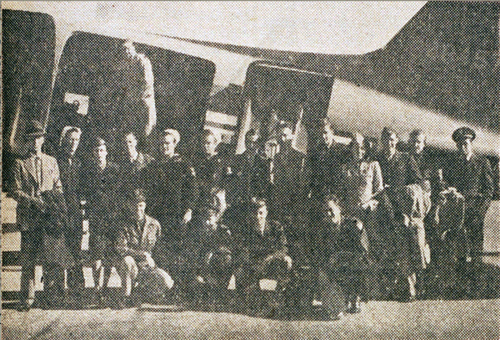 The squad became the talk of the school, with the results of their meets covered in similar fashion as the football and baseball teams. Stinson led a drive for more members, advertising that students could acquire a pilot's license and complete a 40-hour course for about 50 bucks, which was quite a bargain. Normally, lessons and airfield fees would cost about $300, but Stinson had arranged access to a Porterfield trainer for only $2.50 an hour. Stoney Henry, owner of Fort Worth's Russell Field, reserved one of his own planes for team practice.
By January 1948, the Flying Frogs had grown to 21 members, each paying $2 in dues, but more important, the group had gained official recognition by the National Intercollegiate Flying Club and awarded the host site for the 1949 national meet. Newspaper advertisements bombarded students with calls to jet off to away football games or consider a future with the U.S. Army or U.S. Air Force, further evidence of the club's popularity and the growing market for commercial aviation and leisure travel.
By May, the Flying Frogs were nearing the end of their maiden season. They  had swept another air meet and hosted their own competition at Eagle Mountain National Guard Air Base, which attracted a record 13 schools. With the sport's national stage, TCU turned the whole affair into a party, including swimming, boating and free barbecue. Four P-51s from nearby Hensley Field in Grand Prairie performed an aerial show.
Best of all, the purple fliers won easily, taking first in three of the six events.
They were the favorites to win the national meet in Michigan in June, if they could afford the travel. Expenses from their own meet had depleted the club's treasury, and unless a benefactor helped, the Flying Frogs were going to stay grounded.
It was a rescue mission for the Civil Air Patrol. Area fliers learned of the students' woes and helped find enough money for six Flying Frogs to make the trip to Ann Arbor.
But the team suffered by not being at full strength. They managed a second-place finish overall, led by Royce Livingston '49, who garnered third in spot landing, and Jim Bollinger '50, who took third in bomb dropping. Rattikin placed sixth in spot landing and was honored as the top female pilot.
"Although we have no planes of our own with which to practice and no home field as many of the other schools have, it is clear that we do have some top fliers," Stinson told the Skiff. "Our hopes are that we can do better next year."
Still, the TCU contingent was instrumental in other ways, leading a charge to change the name of the national organization to National Intercollegiate Flying Association, a moniker that remains today, and organizing their own four-state district.
The next season, the club had grown to nearly 35 members and the Flying Frogs had swept through the regular season undefeated. Additionally, the U.S. Air Force engaged four fliers in a ferrying job, escorting a DC-3 from New York to Crete in the Mediterranean Sea. TCU also was selected to become home of the first Civil Air Patrol squadron on a college campus.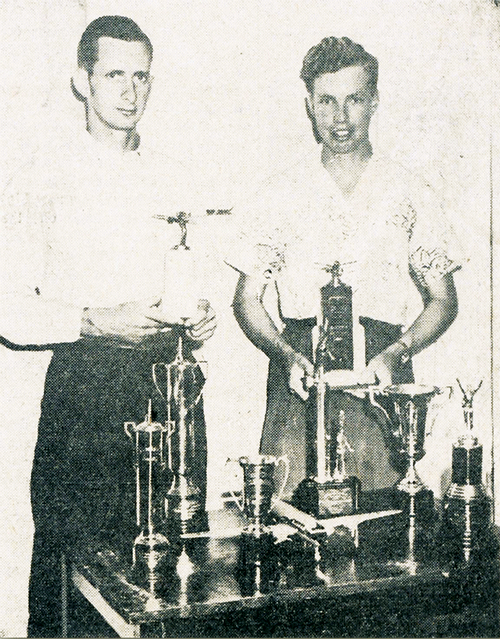 But the best news of all came in March 1949 when the group bought its own plane. Under a government war surplus program, the Air Force sold the group a single-engine, two-seat L-4 from San Marcos Air Base for $50, just to cover clearance charges. The craft, which students dubbed "Bucket of Bolts," needed $400 worth of reconditioning, but it was theirs. Stinson believed that was all that stood between the Frogs and a national title.
Unfortunately, government bureaucracy kept "Bucket" earthbound until the spring of 1951. Because the plane was a part of the surplus program, no bill of sale was issued, and the Civil Aeronautics Board wouldn't give clearance until TCU obtained one.
By then, the flying craze was waning. The sport was expensive and the club's numbers were dwindling. The Flying Frogs also suffered a streak of bad luck at nationals. In 1949, the team hosted the title meet on its home runway but had an off day and finished a disappointing fourth. In 1950, at Oklahoma, the team managed only one point after "Bucket" nosed over while on the ground and cracked its propeller. Though a  national power, the team never did win a national title.
The club re-emerged in the late 1970s and early 1980s under the tutelage of Serge Matulich, an associate professor of accounting. Besides flying, the group went on field trips to area airports, control towers and aircraft manufacturers, including General Dynamics.
"They say that race car drivers have gasoline in their blood," then-sophomore Karen Campbell '85, a one-time president of the club, told the Skiff in 1983. "Well, pilots have jet fuel in theirs."