Topic: football
September 8, 2015
Patterson tempers season's expectations
The senior running back demonstrates communication skills in discussing football, his education-emphasizing parents and the value of international travel.
Sports: Riff Ram | Topics: football
August 5, 2015
Senior-laden team says attitude is everything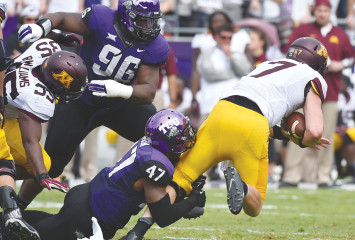 From unranked and off-the-radar to College Football Playoff contender, the 2014 TCU Football team surprised everyone — except themselves. How the 2014 Peach Bowl season began from disappointment.
Features, Sports: Riff Ram | Topics: football
First-team All-America cornerback Jason Verrett is a standout for the Horned Frogs again this season. Lessons from a nightmare sophomore debut are in the past but still drive him.
Sports: Riff Ram | Topics: football
A dangerous, new game imported from back East eventually helped a tiny university grow. But it almost never caught on.
They called him "The Saturday Fox," "Old Iron Pants" and "Mr. Razzle Dazzle," but everyone knew him as "Dutch."
In passing Leo "Dutch" Meyer '21, Gary Patterson is now the all-time winningest football coach in TCU history. Here's what this milestone means to the coach, his program and the school.